From Rappler (Oct 7):
Filipino charged for foiled NY terror plot is a doctor from Marawi
Russel Salic surrendered to authorities in the Philippines in April 2017. The US wants him extradited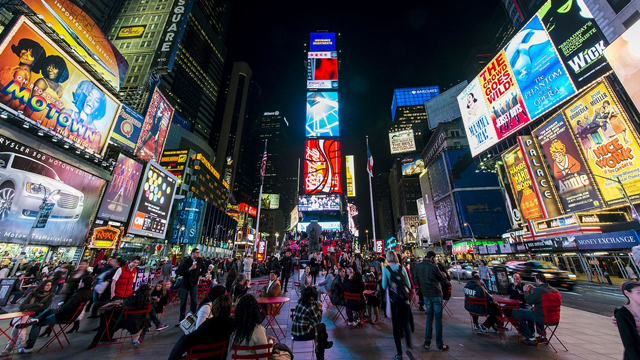 TERROR PLOT. A Filipino is among those charged in a foiled terror plot in New York. Times Square file photo from Wikipedia
Russel Salic, the
Filipino charged for allegedly supporting a foiled terror plot in New York
, is a doctor who used to practice in Marawi City, Rappler learned.
Salic, a 37-year-old orthopedic surgeon, used to work at the Amai Pakpak Medical Center in Marawi City, among other hospitals. He lived in neighboring Marantao town.
He surrendered to authorities in Manila in April and is now under government custody
, according to lawyer Abdul Jamal Dimaporo, the chief of the National Bureau of Investigation in Iligan City. Dimaporo facilitated the surrender.
Salic is facing kidnapping and murder charges in the Philippines, based on the complaint of several sawmill workers from Iligan City who were abducted by the Maute Group in Butig, Lanao del Norte, in April 2016.
The complainants had positively identified Salic as among those who reportedly held them captive, and alleged that they saw him talking to members of the Maute family.
Salic denied the allegation when he appeared at the preliminary investigation of the Department of Justice in August, saying in his counteraffidavit that at the time of the abductions, he was working at the Nothern Mindanao Medical Center in Iligan City which is far from Butig.
The US government claimed that Salic sent around $423 to fund bombings in New York supposedly in the name of international terrorist network Islamic State (ISIS).
The US is asking the Philippines to extradite him.
Salic was charged along with two other alleged terrorists.
Canadian Abdulrahman El Bahnasawy, 19, was the one who purchased bombmaking materials. He was arrested after traveling to the US and reportedly pled guilty to "terrorism offenses.
American Talha Haroon, 19, reportedly planned to take part in the attacks. He was living in Pakistan.
Dimaporo said the US coordinated with the NBI in January to look for Salic. He went into hiding first before finally surrendering to authorities in April amid military crackdown on alleged supporters of ISIS in Marawi.
Dimaporo said Salic was not facing any criminal charge in the Philippines when he became a person of interest in the US.
The Philippines issued a provisional warrant of arrest before the doctor based on the request of the US government.
But Salic was later accused by the Philippine government of involvement in the Marawi siege despite his surrender before the attack, meaning he is now facing a local case.
Salic shares the surname of former Marawi City Mayor Pre Salic, among the alleged supporters of the Maute-ISIS group responsible for the siege in Marawi.
But they are not related, according to locals in Marawi.
https://www.rappler.com/nation/184582-filipino-charged-ny-terror-plot-doctor-marawi