From the Mindanao Examiner (Jun 3):
Troops rescue 180 civilians trapped in Marawi City as battle continues with ISIS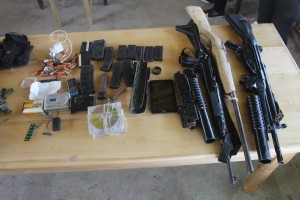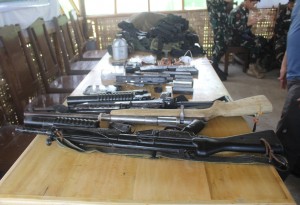 Army photos released to the regional newspaper Mindanao Examiner show assorted weapons seized from the house of a suspected supporter of ISIS fighters in southern Philippines. (Mindanao Examiner)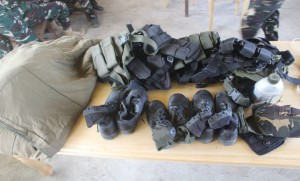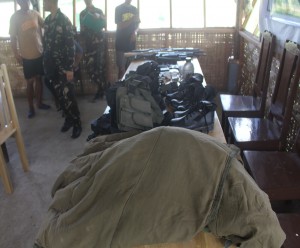 Security forces battling local ISIS fighters have rescued Saturday over 180 civilians trapped in the war-torn city of Marawi in southern Philippines, but one villager was shot dead by a sniper while running to his freedom, officials said.
Army Captain Jo-ann Petinglay, a spokeswoman for the Western Mindanao Command, said troops braved the dangerous streets on Marawi to rescue the civilians, who were handed over to local authorities.
She said the total number of civilians rescued have reached to 1,236, but more than a dozen, mostly Christians, had been killed by jihadists since the fighting began on May 23 after militants occupied the city in an effort to establish a "wilayah" or province of the Islamic State in the restive region.
"Rescued civilians said they have to endure hunger, thirst and sleepless nights as they feared for their lives," Petinglay said, adding, one of those rescued told soldiers: "We cannot get out, we are afraid of the terrorists who might see and kill us. They killed civilians, even their fellow Maranao who cannot recite the prayer or even the Shahada, with even one wrong word. Do they expect someone to recite the prayer while they poked guns at you? That terrorist sniper has no heart, we just want to live. He killed a helpless civilian."
Petinglay said troops continue battling militants and were searching house-to-house for jihadists and civilians still trapped in the fighting.
Brigadier General Rolando Joselito Bautista, commander of military forces fighting the militants, renewed appeals to the public and urged citizens to help authorities fight terrorism. "We call on our people to stand and unite against terrorism. The fight against terrorism is not the sole duty of the security sector but the responsibility of everyone," he said.
The military said troops had killed at least 120 militants, but only recovered 42 bodies of jihadists, including 98 assorted weapons, from an automatic rifle to machine guns, left behind by the ISIS fighters, mostly members of the Maute and Abu Sayyaf groups. But 38 soldiers also perished in the violence with dozens more injured in fierce urban and close-quarter clashes.
In Maguindanao province, the military also seized a small cache of weapons owned by a supporter of the Bangsamoro Islamic Freedom Fighters, an ally of Maute group. Troops raided the house of Tunga Pindilang in the village of Meta in Datu Unsay town and recovered the weapons. Pindilang was not in the house at the time of the raid.
http://mindanaoexaminer.com/troops-rescue-180-civilians-trapped-in-marawi-city-as-battle-continues-with-isis/