From Rappler (Jun 4):
PH military declares 4-hour humanitarian ceasefire in Marawi
The military declared a unilateral ceasefire from 8 a.m. to 12 noon on Sunday, June 4, to allow humanitarian workers to save residents trapped inside the combat zone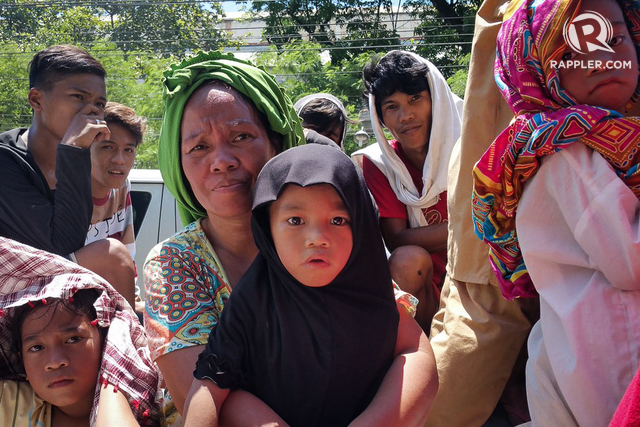 DISPLACED. While most of the Marawi City residents have fled, many are still trapped inside the combat zone
The Armed Forces of the Philippines (AFP) declared a 4-hour unliateral humanitarian ceasefire in Marawi City Sunday morning, June 4, from 8 am to 12 noon.
"It is a period coordinated with our forces, approved by the chief of staff, providing for a 4-hour window to allow entry of humanitarian workres from the local government units, non-government orgnizations, and civil society organizations,"
said AFP spokesperson Brigadier General Resituto Padilla.
"It's a humanitarian pause," said Padilla.
The unilateral declaration was arranged by panels of the government and the Moro Islamic Liberation Front (MILF) that are implementing a peace agreement signed in the previous administration.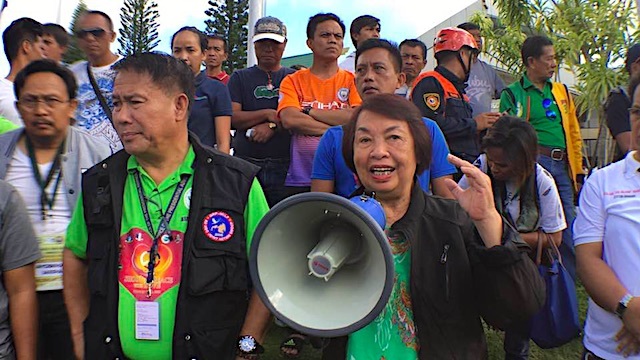 PEACE CORRIDOR. Irene Santiago, chairman of the government panel on the Bangsamoro peace process, open the peace corridor on June 4. Photo from the Facebook post of Irene Santiago
MILF is the country's dominant Muslim rebel group. Central Mindanao, where Marawi City is located, is MILF's known bailiwick.
"The peace corridor is open,"
Santiago said in her Facebook page.
"Please pray that this humanitarian pause to rescue women, men and children still trapped in Marawi will be successful. The "pause" brokered by the Implementing Panels of the government and the MILF started at 8:00 am and will end this noon,"
Santiago added.
Rappler spotted representatives of the government and MILF panels at the Lanao Del Sur provincial capitol in Marawi City the night of May 31 to arrange logistics for the peace corridor.
It is not clear as of this posting if there is an arrangement with the Maute Group to also declare a ceasefire.
Padilla said gunshots were reported during the ceasefire.
http://www.rappler.com/nation/171913-military-ceasefire-peace-corridor