From the Philippine Star (Jun 13):
NPA cadres in Ilocos Sur surrender to military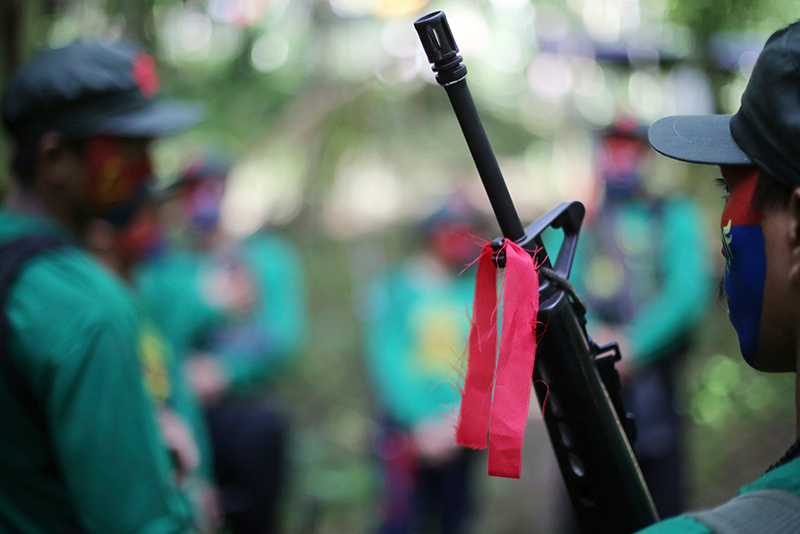 In this Nov. 23, 2016 photo, a red ribbon is tied to a firearm of a New People's Army guerrilla at a rebel encampment tucked in the harsh wilderness of the Sierra Madre mountains. AP/Aaron Favila
Sta. Cruz, Ilocos Sur —
Two communist New Peoples Army cadres turned themselves in to soldiers in Sta. Cruz town in Ilocos Sur, the Ilocos Sur-based 81st Infantry Battalion of the Philippine Army said.
Persistent efforts by Lt. Col. Eugenio Julio Osias IV and his men had paid off with the surrender last week of alias "Gunman" and alias "Batman." The two surrendered an Elisco-made M16A1 assault rifle with a defaced serial number and a .30 caliber Springfield M1 US Garand rifle, respectively.
"Gunman," according to the miiltary's 1st Quarter 2016 records, was No. 3 on the "watch list" because he was a team leader of "Squad Uno, KLG (Kilusang Larangan Gerilya MONTES)" that operates in the tri-boundaries of Abra, Mountain Province and Ilocos Sur.
Meanwhile, "Batman" was the team leader of "Squad Dos, KLG MONTES."
Both "Gunman" and "Batman" are from Barangay Tabacda, Tubo, Abra.
Osias said "Batman" claimed that the "protracted people's war" sacrificed the future of thousands of young people. He reportedly admitted that the government's development projects are now gaining momentum under the Duterte administration.
Early this year, the 81st Infantry Battalion already welcomed five communist rebels into the government's fold.
On February 8, 10 former rebels who surrendered during the 3rd and 4th quarters in 2016 were awarded by Ilocos Sur Gov. Luis Singson their Comprehensive Local Integration Program benefits amounting to P807,000.
Philippine Army's

7th Infantry Division commander Major General Angelito De Leon

said that the "snowballing" of surrenders is the result of the persistent efforts of the soldiers in northern Luzon.
The growing number of NPA members who surrender is a good indicator that there is no more reason to rebel against the government since the latter provides much for their reintegration to the mainstream of society, said Army

Col. Henry Robinson Jr., commander of the 702nd Infantry Brigade

where the 81st Infantry is attached.
Osias said the military "will continue to advocate peaceful resolution of the internal security problem." This, despite the ongoing crisis in Mindanao, he added.
In April, a heavy movement of communist rebels in between the boundaries of Ilocos Norte-Abra-Ilocos Sur was monitored, prompting aggressive patrols by soldiers to foil a supposed "big plan" of the rebels to attack government installations or weakly-secured government forces' stations. No major attack occurred.