From ABS-CBN (Jun 30):
MILF insists on Bangsamoro law without charter change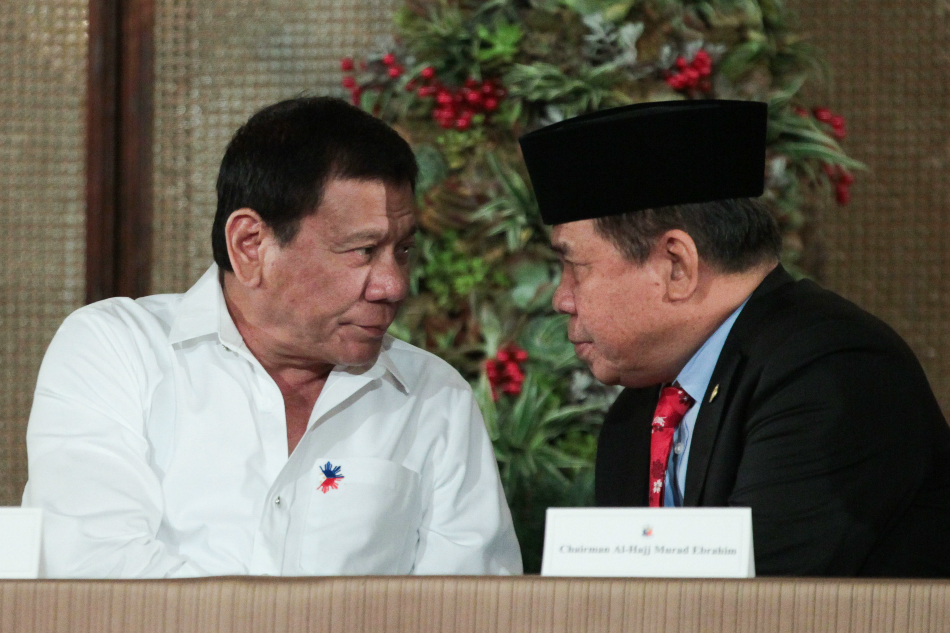 President Rodrigo Roa Duterte chats with Moro Islamic Liberation Front (MILF) Chairman Al Haj Murad Ebrahim on the sidelines of the signing ceremony for the Executive Order reconstituting the Bangsamoro Transition Commission in Malacañan on November 7. King Rodriguez, Malacanang Photo
The Moro Islamic Liberation Front (MILF) stood pat on its position that the new draft law carving a new territory for the Bangsamoro in Mindanao will not require changes in the constitution, its leader said.
The new draft Bangsamoro Basic Law (BBL), set to be submitted to President Rodrigo Duterte, contains no

"recommendation for constitutional change,"

having been studied by lawyers already, said MILF chairman Murad Ebrahim.
"We see no need for constitutional change,"

he told ABS-CBN News, reiterating his group's stand when the BBL was first submitted to the previous Congress.
Legislators then wrangled over the constitutionality of the BBL, some of them claiming the proposed Bangsamoro region would in fact be a substate.
Murad said provisions that might be ruled unconstitutional by the Supreme Court could be accommodated if the country shifts to a federal system, which would require charter change.
But he insisted the government should first create the new Bangsamoro territory, which could serve as a
"template for federalism."
"It would difficult if federalism is established first because there would be another round of negotiation with the federal setup,"
he said.
The MILF, the largest Muslim rebel group in the country, spent 17 years negotiating for a political settement to the armed conflict before signing a peace accord with the government in 2014.
Murad said Duterte's efforts to fully implement the agreement helped some MILF members resist the lure of violent extremism.