From the Philippine Star (May 25):
Humanitarian crisis feared in Marawi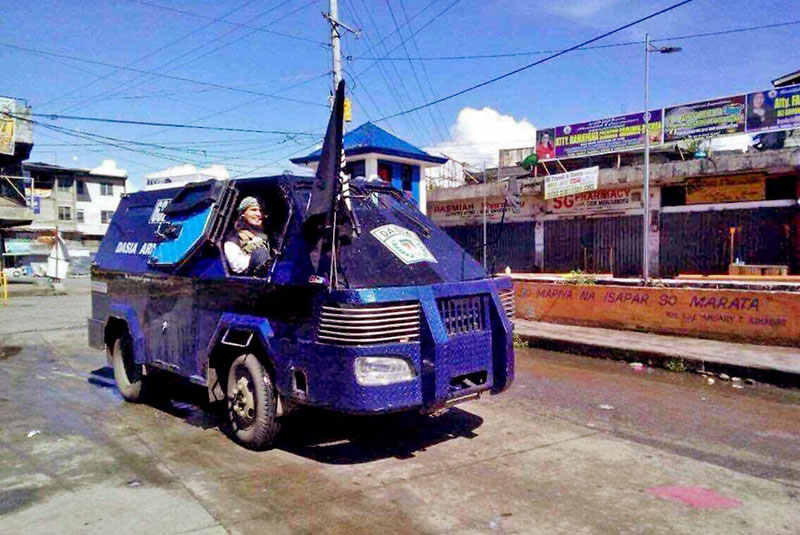 Handout photo from Datu Ali-Asgar Solaiman of the Bangsamoro International Solidarity Conference shows members of the Maute group in an armored car in Marawi City yesterday.
Vehicles packed with evacuees clog the 35-kilometer

Marawi-Iligan highway.

Those without vehicles are fleeing the city on foot, their children and meager belongings in tow.
The Marawi siege is turning into a humanitarian crisis as thousands of residents remain stranded while others flee amid a raging battle between soldiers and the Islamic State (IS)-inspired Maute group.
Traffic is crawling along the highway as vehicles and passengers are subjected to a thorough search before being allowed to enter Iligan, a security official said.
"It's like Syria. People want to go out of Marawi City because they are afraid to be caught in the crossfire,"
said Datu Ali-Asgar Solaiman, founding chairman of non-government organization Bangsamoro International Solidarity Conference that helps evacuees.
The Iligan City government enforced a thorough search following reports that some Maute fighters and their sympathizers mingled with evacuees in their bid to escape from Marawi City.

President Duterte on Tuesday night placed the entire island of Mindanao under martial law for 60 days after the battle of government troops and the Maute erupted in Marawi around 2 p.m. that day.

The fighting in Marawi resulted in power outages and the death of at least three people, with 12 others wounded.

The provincial government of Lanao del Norte and the local government of Iligan City said they are ready to receive evacuees from Marawi.

Gov. Imelda Quibranza-Dimaporo has instructed the Provincial Disaster Risk Reduction and Management Office to prepare for the possible flow of displaced residents from Marawi.

The provincial government has prepared evacuation centers in the towns of Balo-i and Pantar.