From Rappler (May 13):
Duterte says he freed 14 convicted communists
'I am a president for peace. I cannot be a wartime president,' President Rodrigo Duterte says, stressing the need for peace talks with the Left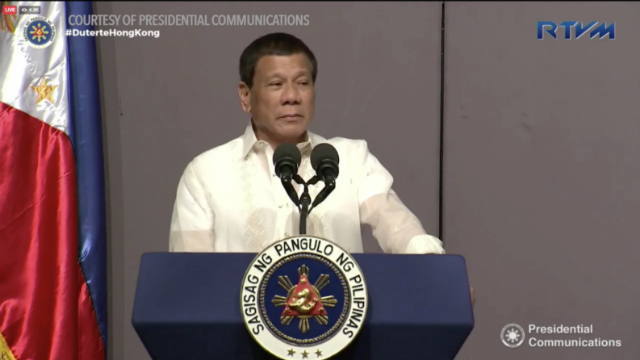 PEACE TALKS. President Rodrigo Duterte stresses the need for peace talks with communist rebels during his meeting with the Filipino community in Hong Kong on May 13, 2017. Screenshot from Malacañang video
President Rodrigo Duterte on Saturday, May 13, said he has released 14 convicted communists from the national penitentiary, the New Bilibid Prison, as a way of showing openness toward the Left.
"I just released about 14 prisoners from Bilibid, 'yung mga komunista na convicted na (the communists who have been convicted),"
Duterte said in a speech before the Filipino community in Hong Kong.
Duterte explained: "I am a president for peace. I cannot be a wartime president. I cannot afford to fight with anybody, especially to wage war against my own people."
Duterte said it is better to talk even if there can be some "irritation" or "exchange of words" along the way.
The President talked about this as he introduced to overseas Filipino workers in Hong Kong the so-called Leftists in his government. The ones he introduced in Hong Kong were Liza Maza, lead convenor of the National Anti-Poverty Commission and Agrarian Reform Secretary Rafael Mariano.
Duterte's remarks come as peace talks between the government and communist rivals
have seen a revival
under his administration.
The communist insurgency in the Philippines began in 1968 and is one of the longest running in the world. It has claimed an estimated 30,000 lives, according to the military.
Peace talks have been conducted on and off for 30 years.
Duterte, a self-described socialist, has made a peace deal with the rebels a top priority. The negotiators agreed that the next round of peace talks would be held between May 27 and June 1, although a venue has yet to be agreed upon.