From ABS-CBN (May 12):
AFP claims many Abu Sayyaf casualties in Basilan battle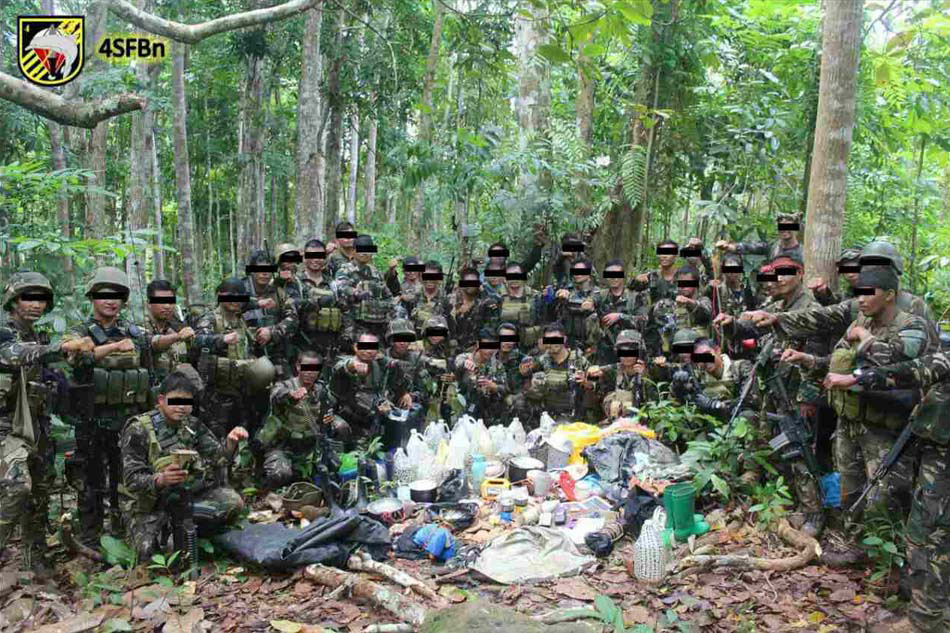 Members of Joint Task Force Basilan, consisting of the 4th Special Forces Battalion and 3rd Scout Ranger Regiment, pose for photos after seizing an Abu Sayyaf camp site at Barangay Pamatsaken, Sumisip, Basilan on Thursday. The troops also recovered explosive components capable of making improvised explosive devices (IEDs).
Photo courtesy of 4th Special Forces Battalion
No less than 20 Abu Sayyaf members on Thursday may have been killed in clashes with the Armed Forces of the Philippines' (AFP) Joint Task Force Basilan in Sumisip, Basilan, the military said on Friday.
In a statement, the AFP said intelligence reports estimate "no less than twenty (20) ASG fatalities from the combined airstrikes and indirect fires" at an ASG campsite in Brgy. Pamatsaken, Sumisip on Thursday.
The military, however, did not give any names or show images of the Abu Sayyaf fighters killed.
"Our troops were able to cordon the enemy due to the accurate and timely indirect fires and close air support delivered by our Artillery and the Philippine Air Force," said Col. Juvymax Uy, leader of the Joint Task Force Basilan.
"Also, the information being volunteered by the populace and LGUs provided critical details to validate the intelligence we have on hand."
The AFP seized the temporary encampment, which was believed to be harboring ASG Sub Leader Furuji Indama, where three live improvised explosive devices (IED) and 12 makeshift tents were found. One IED was detonated and inflicted minor injuries on two soldiers.
According to Uy, the ASG is running out of resources.
"We no longer experience the prolonged firefights with the ASG. This suggests that they have run out of ammunition and other supplies necessary to engage government forces. More than just resources, they no longer have the mass base they once enjoy," he said.
The military said Naval Task Group Basilan also prevented the bandits from escaping by sea.
Last Saturday, four ASG members were
killed
in a battle here with the government.
http://news.abs-cbn.com/news/05/12/17/afp-claims-many-abu-sayyaf-casualties-in-basilan-battle