From Rappler (Nov 16):
ASEAN armies in PH to show who has best shooters
The contest happens alongside the meeting of ASEAN army chiefs, who will themselves engage in a friendly shooting competition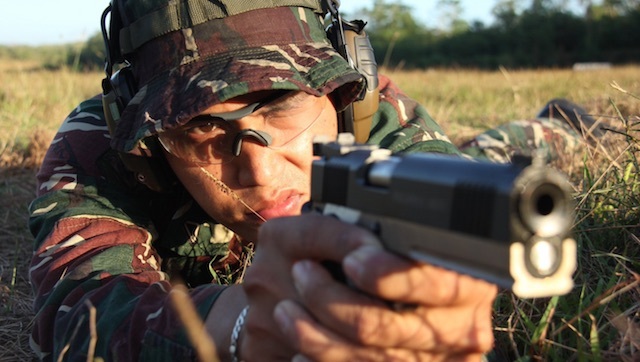 AARM 2016. The Philippines is hosting ASEAN countries for the annual marksmanship battle. Photo from @AARM2016Phl Twitter account
Marksmen representing the armies of the 10 ASEAN countries started arriving in the Philippines for the ASEAN Armies Rifle Meet 2016 (AARM 2016) to be held from November 18 to December 7 at Camp O'Donnel in Capas, Tarlac.
The contest will happen alongside the meeting of ASEAN army chiefs, who will themselves engage in a friendly shooting competition.
"The objective of the AARM is to develop and strengthen the relationship among the member armies from its senior military leaders down to their foot soldiers," said Army spokesman Colonel Benjie Hao during the media launch of the marksmanship contest on Tuesday, November 15.
The 10 ASEAN countries are Brunei Darussalam, Cambodia, Indonesia, Laos, Malaysia, Myanmar, Philippines, Singapore, Thailand, and Vietnam.
The shooting team of the Royal Cambodian Army arrived as early as November 6 to start training and adjust to the environment.
There are 5 categories: pistol for men, pistol for ladies, carbine, rifle, and machine gun.
The Royal Thai Army will be defending its championship title last year. If successful, it will match the 9 titles of the Indonesian Army which currently holds the most number of championship titles since the marksmanship contest started in 1991.
The Philippine Army won once, in 2005, when the contest was held in Brunei. The team was led by Colonel Leodovic Guinid and Colonel Noel Detoyato. Now Staff Sergeant Jennifer De Belen also won the Pistol Ladies category. She is participating again this year.
The Philippine Army team for AARM 2016 is composed of 31 shooters. They are ready, said Lieutenant Colonel Isagani Criste, the Philippine Army Shooting Contingent Commander. Below are the participants:
Rifle: sergeants Rolly Agustinez, Alvin Gapingan, Kenny Lloyd Guillermo, Rodney Rizano, and Leo Basierto; staff sergeants Allan Lao and Rudy Edas; and corporals Rosalito Collado and Ariel Taganait.
Carbine: sergeants Angelo Bonagua and Jumar Senas, Corporal Hader Hammara, Technical Sergeant Armando Mejia, and Staff Sergeant Allan Tindungan.
Machine Gun: Sergeant Jovemar Rapsing; Technical Sergeant Richard Tangalin; corporals Michael Paz, Hector Chua, Jayson Paden; and Private First Class Edrick Domingo.
Pistol Men: sergeants Andy Guway, Benito Sumalar Jr, and Jay Amita; Staff Sergeat Mar Udan; Technical Sergeant Clarence Pukya.
Pistol Ladies: privates first class Maria Liza Calubing and Jellane Mariano, Staff Sergeant Jennifer De Belen, Sergeant Jovelania Malica, and Corporal Lea Trinidad.
http://www.rappler.com/nation/152451-asean-armies-rifle-meet