From Rappler Talk (Jul 6):
Rappler Talk: Making China follow the rule of law
[Video: Rappler Talk: Making China follow the rule of law
Senior Associate Justice Antonio Carpio talks to Rappler about what's at stake for both the Philippines and China
https://www.youtube.com/watch?v=k1QhLLGwk78
]
EXCLUSIVE: Philippine Supreme Court Justice Antonio Carpio talks to Rappler about the legal case against China in the South China Sea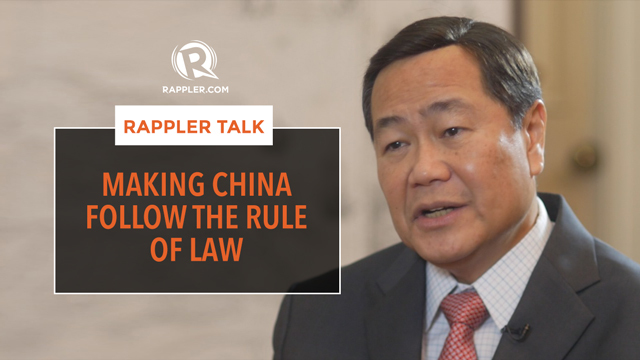 Rappler talked to Antonio Carpio, Senior Associate Justice of the Philippine Supreme Court, about how the Philippines will fare against China in the two countries' maritime dispute over the West Philippine Sea.
Starting Tuesday, July 7, until July 13, the
Philippines will argue
its historic case versus China before a UN Arbitral Tribunal in The Hague. The core issue to be resolved is: Does the Arbitral Tribunal have jurisdiction over the dispute?
It's been more than 2 years since the Philippines brought China to an international arbitration court. The Philippines' main claim is that the 9-dash line of China, which swallows a vast expanse of our Exclusive Economic Zone, violates international law as stipulated in the UN Convention on the Law of the Sea (UNCLOS), to which China is a signatory.
Justice Carpio, who has extensively studied and lectured on the historical roots and legal dimensions of the South China Sea dispute, joins the Philippine contingent bound for The Hague.
"Once the jurisdiction is won by the Philippines, and the tribunal says it has jurisdiction, then we practically know the tribunal will strike down the 9-dash line," he told Rappler.
Watch Carpio's interview with Rappler's Maria Ressa here.