From Rappler (Mar 29):
Palace: Peace summit seeks more voices on BBL
The summit will allow Filipinos to view the Mindanao peace process 'through the prism of stakeholders – all stakeholders involved,' the Palace says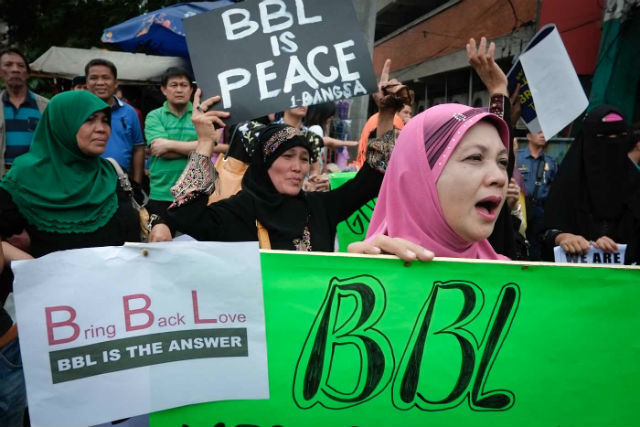 PEACE RALLY. Muslims from Manila, Bulacan, Pampanga, and Pangasinan converge at the Mendiola Peace Arch to push for the Bangsamoro Basic Law. File photo by George P Moya/Rappler
Malacañang on Sunday, March 29, defended its upcoming National Peace Summit as a way to hear more voices on the Bangsamoro Basic Law (BBL), a landmark in the peace process in the southern Philippines.
"The National Peace Summit is not in any way going to supplant the legislative process. But in recognizing that there is a constituency for peace, we would like to provide a space for stakeholders other than those who have been speaking out very recently, to also share their voice and to share their discourse in an objective and in a deliberative process without emotions," presidential spokesman Edwin Lacierda said over state-run Radyo ng Bayan dzRB.
He said the summit will allow Filipinos to view the peace process "through the prism of stakeholders – all stakeholders involved."
The government, he added, is leaving the summit's details to its independent convenors.
Lacierda was responding to criticisms that the National Peace Summit is a "ploy" to gain support for the BBL. (READ:
Palace downplays apprehensions over BBL, citizens' council
)
The BBL aims to create an autonomous Muslim region more powerful than the one in place, to end a 4-decade Muslim secessionist movement.
This proposed law is facing a major roadblock after a botched police operation in Mamasapano, Maguindanao, killed 44 members of an elite police force, 18 Muslim rebels, and 5 civilians. Done a month after the bloodbath, a Pulse Asia survey
shows 62% of Mindanao residents
oppose the BBL.
Aquino said he wants to address the public's doubts about the BBL. On Friday, March 27, Aquino said he invited "citizen leaders known for their wisdom and integrity" to form a council to convene the National Peace Summit.
The President
named the following
as members of the council: Manila Archbishop Luis Antonio Cardinal Tagle, former Chief Justice Hilario Davide Jr, businessman Jaime Augusto Zobel de Ayala, former Philippine Ambassador to the Holy See and Malta Howard Dee, and founder of Teach Peace, Build Peace Movement Bai Rohaniza Sumndad-Usman.
http://www.rappler.com/nation/88310-national-peace-summit-stakeholders-bbl