From Rappler (Mar 29):
MILF field commander: No sanctions yet over Mamasapano
'Why they will suspend us where in fact we are not involved in the incident?'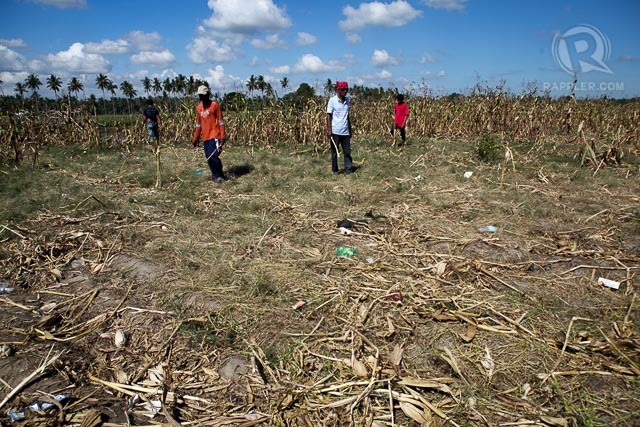 In this file photo, residents survey January 28, 2015 the scene in Tukanalipao, Mamasapano Maguindanao where 44 SAF members died and 11 others wounded during a clashed with combined forces of MILF and BIFF. Rappler file photo
A senior rebel field commander, whose unit reportedly was involved the January 25 incident in Mamasapano, Maguindanao that left 44 police commandos dead, said Sunday, March 29,
there has so far been no sanctions given by their leaders in connection with the incident.
Earlier, MILF first vice chairman for political affairs Ghazali Jaafar said two of their units, the 105th and 118th Base Commands, are
facing disciplinary action
for failing to monitor the entry of Malaysian-born terrorist Zulkifli bin Hir, alias "Marwan," and his Filipino associate, Basit Usman, into Mamasapano.
Jaafar also said that based on their
37-page investigation report
, the two units failed to monitor and report the entry of Philippine National Police Special Action Force (PNP-SAF) commandos into Tukanalipao village.
But Wahid Tundok, commander of 118th Base Command, said
since the MILF report on the Mamasapano incident
was released last week there has been no disciplinary action given to them by their leaders.
"It cannot happen. Why they will suspend us where in fact we are not involved in the incident?" Tundok said.
Tundok said it was even their chairman, Ibrahim Murad, who told him they have nothing to do with the incident.
He said they were unaware of the presence of Marwan in Tukanalipao.
"We are bound to strictly follow Islamic laws and we believe we have not violated any laws," Tundok said.
He said there were no members from their central committee who went to them to talk about the suspension.
Tundok, however, did not mention if his group will accept or not their suspension order, if it is given to them.
SAF commandos infiltrated into Moro rebel-controlled Mamasapano early on January 25 to capture Marwan, Usman, and Malaysian-born terrorist Amin Baco.
They killed Marwan in his hut in Tukanalipao while Usman and Baco escaped.
44 SAF commandos, 17 MILF guerrillas and 3 civilians were killed in a gun battle that lasted for 12 hours.
http://www.rappler.com/nation/88299-milf-field-commander-sanctions-mamasapano