From Rappler (Feb 15):
Lacson hits PMA alumni with 'misplaced values'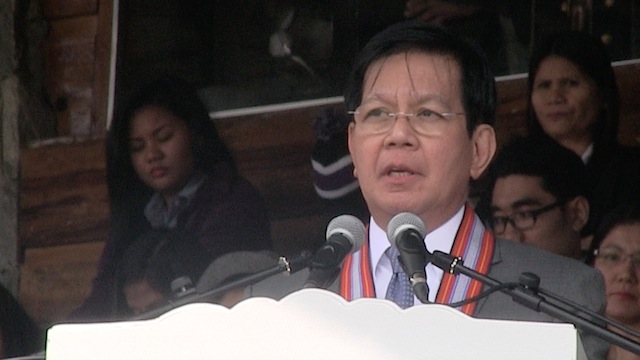 The Philippine Military Academy (PMA) has always tried to be politically neutral. But on its alumni homecoming on Saturday, February 15, keynote speaker former Senator Panfilo Lacson recalled how he was "maligned" by the previous administration.
He also slammed graduates of the country's premiere military institution with "misplaced values" who succumbed to corruption and forgot about the PMA Honor Code.
"Times have changed. Gloria Macapagal Arroyo is no longer the commander in chief. Jose Miguel Arroyo is no longer First Gentlemen.
While I have forgiven them and their cohorts for their individual and collective actions to malign my personal reputation and honor, I am quite sure I will not forget their names," Lacson said in his speech.
[Video: Speech of Former Sen Panfilo Lacson at the PMA Alumni Homecoming 2014
A 1971 PMA graduate, Lacson served as former chief of the Phiippine National Police (PNP), former senator, and is now Presidential Assistant for Rehabilitation and Recovery.
Lacson is a controversial PMA alumnus himself. He was a fugitive of justice when he left the country under the Arroyo regime to evade arrest over a case involving the murder of public relations agent Bubby Dacer.
Lacson has always maintained that the case was politically motivated because he was a staunch Arroyo critic.
PMA chose him as keynote speaker because of his important task to rehabilitate areas devastated by Super Typhoon Yolanda, said Colonel Romeo Brawner, chairman of the
PMA Alumni Associate Inc public relations committee. Lacson did not speak about Yolanda in his speech, however.

(READ: Lacson: Yolanda rehab until 2016)
But Lacson did not impress everyone including the former Armed Forces chief of staff under Arroyo, retired General Hermogenes Esperon Jr.
"He had a very good speech except that it was destroyed by the mention of 2 people, who did not have to be mentioned. He could have removed that line and it would have been perfect," Esperon said.
"Let's not speak as if we have monopoly of virtues," he added.
Upperclassmen with 'misplaced virtues'
Lacson reminded cadets to follow the PMA Honor Code – courage, integrity, and loyalty – even after graduation and when they encounter upperclassmen "with misplaced behavior."
"And so comes graduation and the real cruel world thereafter. The idealist is still very much armed with the academy virtues suddenly comes face to face with practically everything that is opposite of what was taught in the hallowed grounds of Fort Del Pilar: Corruption, Treachery and Cowardice."
"When young graduates encounter in their field of assignment some upperclassmen who have already succumbed to the temptation of misplaced values, the effect could be very frustrating if not disastrous," Lacson added.
The PMA Honor Code helped him transform the PNP, he said. "Rightly or wrongly, we were generally perceived as a bunch of ICUs: inept, corrupt, and undisciplined," he said.
"With much help from cavaliers, the potbellied policemen became uniformly fit and trimmed, not more than 34 inches in their midsection. Not only did our policement stop the 'kotong' culture, they were arresting traffic enforcers preying on motorists," he said.