From the Mindanao Examiner (May 19):
PNP chief fetches 2 cops freed by Sayyafs in Sulu
SULU –
Philippine police chief Oscar Albayalde flew Saturday to the southern Sulu province where he fetched two kidnapped policewomen freed by the Abu Sayyaf.

The two officers Bennie Rose Alvarez and Dinah Gumahad were released on May 16 barely three weeks after rebels seized them April 29 along with two other civilians Jakosalem Blas and Faizal Ahidji who had been earlier freed.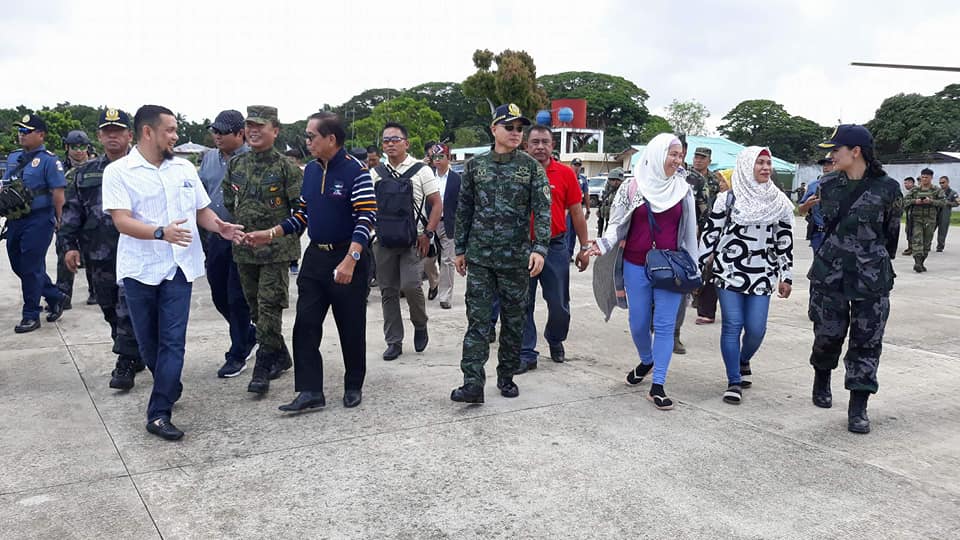 Sulu Governor Totoh Tan with Philippine police chief Oscar Albayalde who fetched freed officers Bennie Rose Alvarez and Dinah Gumahad on Saturday, May 19, 2018 three days after Abu Sayyaf released them in the province. (Courtesy of the Sulu Provincial Government)
Albayalde thanked Governor Totoh Tan for his assistance in the safe release of the officers. The release of the officers came days after Albayalde sought Tan's help in recovering Alvarez and Gumahad.
The duo - both clad in veil – were smiling when they met with Albayalde.
Former rebel chieftain Nur Misuari of the Moro National Liberation Front was also present during the handover, but it was unclear whether he took part or directly involved in the negotiations with the Abu Sayyaf for the release of the hostages. The Abu Sayyaf had demanded P5 million in exchange for the officers. It was unknown whether ransom had been paid for the freedom of the police officers.
The officers are assigned with the crime laboratory and engineering department and were vacationing in Sulu when rebels kidnapped them near a military base. They were travelling on a motorcycle taxi when about a dozen gunmen flagged down their vehicle in Liang village in Patikul town and took them away. Police have identified the gang's leader as Mujir Yada.
It was unknown why no policemen and soldiers were guarding the highway or why authorities failed to prevent the kidnappings despite an extended martial rule on the whole southern region.
Tan repeatedly rallied his mayors to work hard in protecting their communities and repeatedly ordered authorities to impose a tighter security in the Sulu and for the military to help police in maintaining peace and order in the province.
The Department of the Interior and Local Government has removed last year the supervision of the local executives over the police, which relied heavily on the support of local governments in their campaign against criminality.
Just recently, two government soldiers were killed and at least 12 wounded in fierce battle with the Abu Sayyaf during a rescue mission in Patikul. The soldiers were members of the 5th Scout Ranger who clashed with Abu Sayyaf commanders Hajan Sawadjaan, Idang Susukan, Injam Yadah and Ben Quirino in the village called Tanum.
http://mindanaoexaminernewspaper.blogspot.com/2018/05/pnp-chief-fetches-2-cops-freed-by.html