From the Mindanao Examiner (May 29):
Military tightens security in Tacurong City after foiled bomb attack
Government soldiers have tightened security in Tacurong City in Sultan Kudarat province after they foiled an attempted bombing outside a school there by militants tied to the Islamic State.

Captain Arvin Encinas, a spokesman for the 6th Infantry Division, said members of the Bangsamoro Islamic Freedom Fighters have threatened to launch bomb attacks in the province.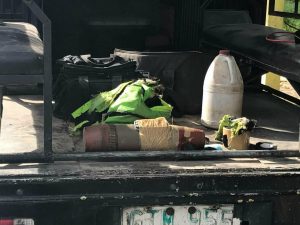 An army photo released to the regional newspaper Mindanao Examiner shows the recovered improvised explosive in Tacurong City.
He said they pre-empted the weekend bombing following the discovery of the improvised explosive planted in front of the Griño Elementary School along the highway. "The Explosive Ordnance Disposal of the army and police conducted safety procedure to secure the suspected IED," he said.
The bomb was assembled from an unexploded 105mm ammunition. It was unclear how the ammunition, which is being used by the soldiers, fell in the hands of the militant group.
Meanwhile in the Muslim province of Basilan, a government soldier Sergeant Mohammad Alam, was killed in an ambush Monday by gunmen in the village of Baguindan in Tipo-Tipo town.
The 46-year old

Alam, an intelligence operative of the 18th Infantry Battalion,

was travelling on a motorcycle when gunmen attacked him. Alam, who was on a clandestine mission, died on the spot from multiple bullet wounds.
There was no immediate statement from the Philippine Army or the Western Mindanao Command on the killing of the soldier.
https://mindanaoexaminer.com/military-tightens-security-in-tacurong-city-after-foiled-bomb-attack/