From Rappler (Oct 3):
WATCH: Troops show Duterte how to build Marawi shelter in 10 minutes
On President Duterte's sixth visit in Marawi, the troops show him how to build a house in 10 minutes
Troops showed President Rodrigo Duterte on Monday, October 2, that they could assemble a Marawi shelter in about 10 minutes.
Duterte returned to Marawi to inaugurate relocation site "Bahay Pag-asa" that would host 50 families who lost their homes in the war with local terror groups linked with international terrorist network Islamic State (ISIS).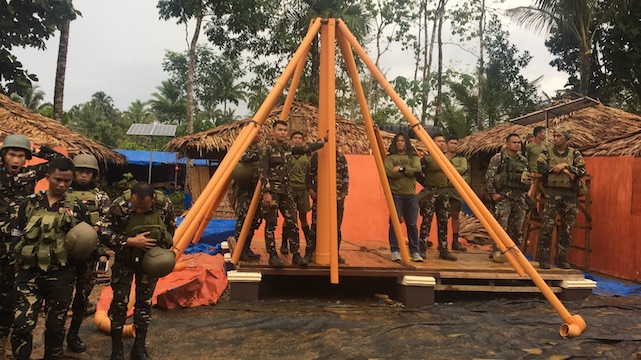 FROM SCRATCH. Troops compete for the fastest team to assemble a temporary shelter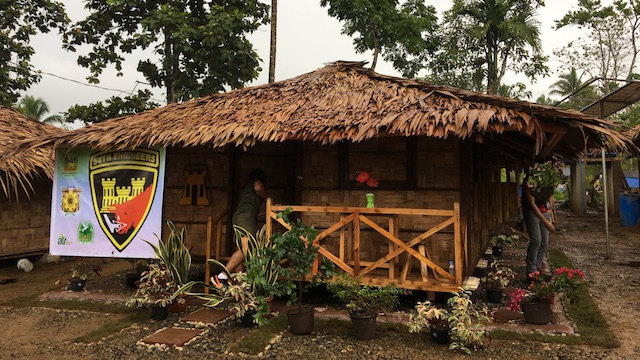 10 MINUTES. Troops show they can assemble houses in about 10 minutes
The President was accompanied by Defense Secretary Delfin Lorenzana and 1st Infantry Division commander Major General Rolando Bautista at the relocation site located at barangay Bito Buadi Itowa in Marawi City.
Teams of soldiers competed against each other for the fastest team to assemble precast wooden roofs and walls.
It was the model house that they proposed to replicate in other relocation sites.
Duterte's visit to Marawi City was his 6th since the war erupted on May 23.
The military missed another self-imposed deadline to end the war in September.
https://www.rappler.com/nation/184105-watch-troops-build-marawi-shelter-in-10-minutes