From ABS-CBN (Aug 9):
Military says no need for foreign reinforcement to liberate Marawi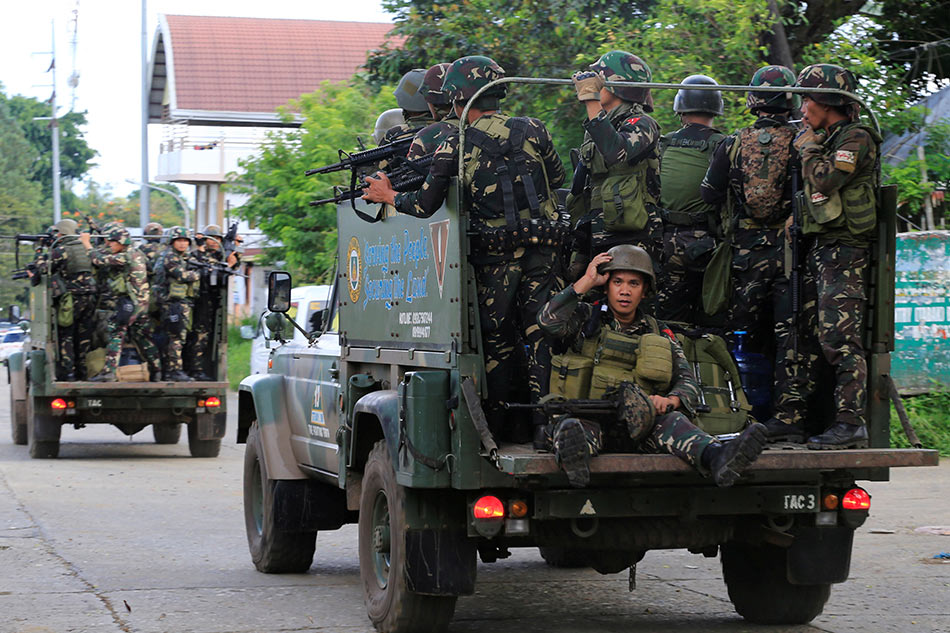 Soldiers are seen on board military vehicles in Marawi City on Tuesday, as government troops continue their assault against insurgents from the Maute group. Romeo Ranoco, Reuters
The military on Wednesday said Filipino soldiers could liberate war-torn Marawi City even without the help of foreign troops.
Col. Romeo Brawner, Deputy Task Group Commander of Joint Task Group Ranao, said ending the long-drawn siege at the Islamic city is the responsibility of the Philippine military.
His comments came amid the reported plan of the United States, the Philippines' strongest defense ally, to conduct air strikes against Islamic State-linked terrorists in Marawi City.
READ: PH says no formal notice yet of US plan for Marawi air strikes
"Hindi na kailangan ng additional troops from other countries. AFP is capable, we have enough ammunition and troops. Kayang kaya po ng tropa natin to finish the mission,"
he said.
"Basically, sa ating Constitution, it is the responsibility of the Philippine government to protect our territory and our people, at [ang] pag-employ ng foreign troops in our territory is against our Constitution,"
he added.
Brawner thumbed down possible US help in conducting air strikes, citing legal impediments to having a manned or unmanned US aircraft undertake such a mission in Marawi City.
"In the mutual defense treaty, US comes to our aid if there is an external aggression. In the case of Marawi, hindi ito external aggression. In fact, we call them local terror group," he explained.
Brawner said the role of US forces in Philippine military operations is limited to technical, educational and training support.
His statements echoed that of Armed Forces Chief of Staff Eduardo Año, who said Tuesday that direct military action by the US, a Philippine treaty ally, "may only be allowed during actual invasion of the Philippines by another state actor."
The Provincial Crisis Management Committee also rejected US help in undertaking air strikes, citing the concern of civilians that even more properties may be damaged in the war-ravaged city.
J
oint Task Force Marawi spokeperson Capt. Jo-Ann Petinglay said firefights have lessened since the clashes have been contained within a square kilometer of the conflict zone.
"Kung ikukumpara exchange of fires, medyo humina sila. Bakit bumaba casualty sa amin? Probably bumababa na logistical supplies nila, wala na silang resources" she said.
STILL ALIVE?
There are, however, still strong indications that terrorist leaders Isnilon Hapilon and brothers Omar and Abdullah Maute are still in the conflict zone despite previous reports that the leaders have been killed.
President Rodrigo Duterte previously
offered
a P10 million reward for the "neutralization" of Hapilon, the anointed ISIS leader in the Philippines, and P5 million each for Abdullah and his brother Omar, leaders of the terror group under their name.
Around 50 to 70 hostages are still believed to be trapped in the besieged city.
The military said 4 more civilians were rescued by the military and have already been subjected to debriefing.
Fighting between government forces and Maute extremists in Marawi City broke out on May 23 and has left at least 539 terror suspects and 122 soldiers dead.
http://news.abs-cbn.com/news/08/09/17/military-says-no-need-for-foreign-reinforcement-to-liberate-marawi