From the Philippine Star (Jul 13):
Ex-general joins star-studded Duterte Cabinet as Housing chief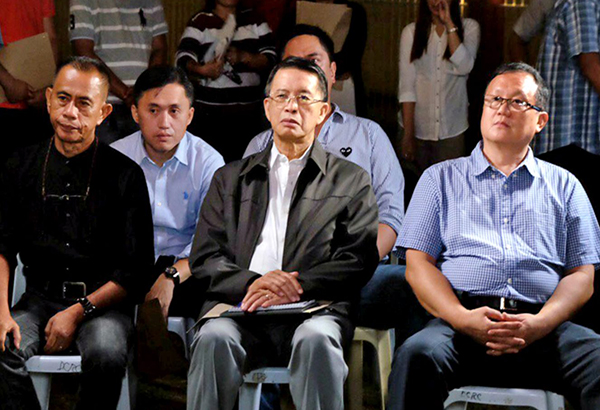 Eduardo del Rosario (right) was NDRRMC chief during the onslaught of Typhoon Yolanda in 2013. File photo
A retired general who served as National Disaster Risk Reduction and Management Council executive director during the onslaught of Typhoon 'Yolanda' has been named Housing chief, a post previously occupied by Vice President Leni Robredo.
President Rodrigo Duterte appointed retired Army general Eduardo del Rosario as chair of the Housing and Urban Development Coordinating Council, a Cabinet post, last July 12, appointment papers released to the media showed.
He replaced acting HUDCC chief and Cabinet Secretary Leoncio Evasco Jr., who assumed the post after Robredo resigned from the Cabinet. Robredo, a member of the opposition Liberal Party, quit after she was asked not to attend cabinet meetings supposedly because of "irreconcilable differences" with Duterte.
A graduate of Philippine Military Academy class of 1980, del Rosario was chief of the military's Civil Relations Service and the 2nd Infantry Division. He was also the head of Task Force Kalihim, which conducted search and retrieval operations for the remains of the late Interior and Local Government Secretary Jesse Robredo in 2012.
Del Rosario was appointed NDRRMC executive director by President Benigno Aquino III in 2013.

Under his watch, the NDRRMC was accused of underreporting the number of fatalities of Typhoon "Yolanda," which ravaged the Visayas four years ago. Del Rosario denied the allegation and even vowed to resign if critics could prove that the NDRRMC was manipulating the figures.

Del Rosario was appointed defense undersecretary for civil, veterans and retiree affairs last year.

The Duterte Cabinet already included six former generals before del Rosario's appointment.

Other appointees

Duterte also appointed Raul Lambino, a former lawyer of former President Gloria Macapagal-Arroyo, as administrator and chief executive officer of Cagayan Economic Zone Authority.

Lambino served as spokesman of the once ruling Lakas-Christian Muslim Democrats. He was also the face of Sigaw ng Bayan, a group that pushed for charter change during the presidency of Arroyo.

Other new appointees were Court of Appeals Presiding Justice Andres Reyes, who was appointed Associate Justice of the Supreme Court; Moro Islamic Liberation Front political affairs chief Ghadzali Jaafar, who has been designated amirul hajj or leader of Muslim pilgrims; Metodio Turbella, who has been named Environment department director IV; Walter Besas, who has been named Dangerous Drugs Board deputy executive director; and Eric Distor, who has been appointed National Bureau of Investigation Director III.