From Rappler (Jun 5):
Military studying possibility of attacking Marawi mosques
Maute Group members continue to stage attacks from Marawi mosques and madrasas, which are protected by international laws on cultural property during armed conflict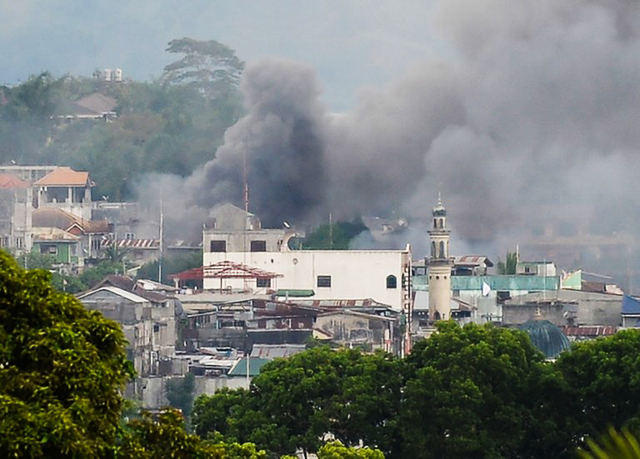 The Philippine military is considering bombing mosques where Maute Group members are staging attacks on troops as pressure mounts for them to end the Marawi crisis.
"That is a matter we are studying carefully," he said on Monday, June 5 during a chance interview in Malacañang.
The use by terrorists of mosques and madrasas as areas from which to stage attacks on government forces is a major reason why they continue to hold around 10% of the city under their control, said Padilla.
Some of these religious buildings are being used as "sniper nests" by terrorists, affording them good vantage points and protection, given the international laws against attacks on places of worship and other cultural property.
These same conventions are why the military is considering targeting mosques as a last resort.
"Our Chief of Staff has instructions to ground commanders to do everything to avoid this course of action," said Padilla.
The military continues to call on terrorists to surrender and avoid occupying places of worship.
There are exceptions to the rule against attacking cultural property during an armed conflict, said Padilla.
"Any person who is armed who harbors a certain area, be it a hospital or places of worship, if they insist on staying in that place there are provisions internationally that say they can be targeted," said Padilla.
The
1954 Hague Convention for the Protection of Cultural Property in the Event of Armed Conflict
calls on countries to refrain from "any act of hostility directed against such property."
However, the accord, signed by the Philippines, says such a rule can be waived in cases of "imperative military necessity."
This waiver can only be invoked if an officer commanding a force the size of a battalion or larger determines there is imperative military necessary to target a cultural property.
Hague Convention rules also require that the military give advance warning when the cultural property will be attacked.
The Marawi crisis enters into its 14th day on Monday, June 5. The martial law in Mindanao declared by President Rodrigo Duterte due to the crisis also enters into its 14th day.
http://www.rappler.com/nation/172014-military-possibility-mosques-attacks-marawi