From Rappler (Jun 20):
Metro Manila bomb plot memo 'chismis' – police official
The cop who signed the internal memorandum – which made the rounds in public – is also sacked pending investigation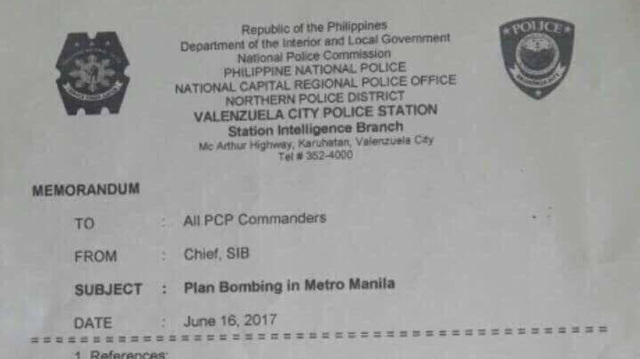 A police official whose subordinate signed a memorandum about an alleged
Metro Manila bomb plot
said it was "raw intel".
"In short, chismis (rumors),"
said Chief Superintendent Roberto Fajardo, chief of the Northern Police District (NPD), referring to a memorandum supposedly written by the Valenzuela City police offices' intelligence chief, Chief Inspector Jowielouie Bonaobra Bilaro.
The memo, which was dated June 16 and supposedly written by Bilaro, detailed an alleged plot by the Maute Group to "conduct bombing in Trinoma, Quezon City, SM Cubao, Quezon City Circle, certain places in Quiapo and Makati."
Fajardo confirmed the authenticity of the document but clarified that it was merely "raw intel." He said in a text message to Rappler on Tuesday, June 20,
"But we double check even if it's just chismis (rumors), just to make sure."
Still, Bilaro has been relieved from his post pending investigation.
"That's our question too," said Fajardo when asked how the memorandum went viral through social media and online messaging platforms.
In the supposed memo, the Valenzuela City Police Station's intelligence branch informed community precincts about a "Plan Bombing in Metro Manila."
It reminded community precincts to "initiate counter security measures to prevent government casualty and attacks from the enemy, particularly PNP stations/AFP units and vital installations in your respective AORs (areas of responsibility)."
Metro Manila police chief Director Oscar Albayalde had earlier said they would investigate the memorandum while reminding the public not to share unverified information.
The Philippine National Police (PNP) on June 20 also reminded its officers to handle confidential and internal documents properly.
The supposed memo comes as government troops
continue to flush out
terrorists in Marawi, who
attempted to take control of the city
on May 23.
President Rodrigo Duterte placed the entire Mindanao island
under martial law
, partly to quell the threat of the Maute and Abu Sayyaf groups, which earlier pledged allegiance to international terror group
Islamic State (ISIS)
. (READ:
20 ISIS cell groups operate in Mindanao – Calida
)
Police in the National Capital Region have remained on alert following a string of high-profile events and the declaration of martial law in Mindanao.
http://www.rappler.com/nation/173512-metro-manila-bomb-plot-valenzuela