From the Philippine Star (Mar 13):
Malaysia to send new peacekeepers to Mindanao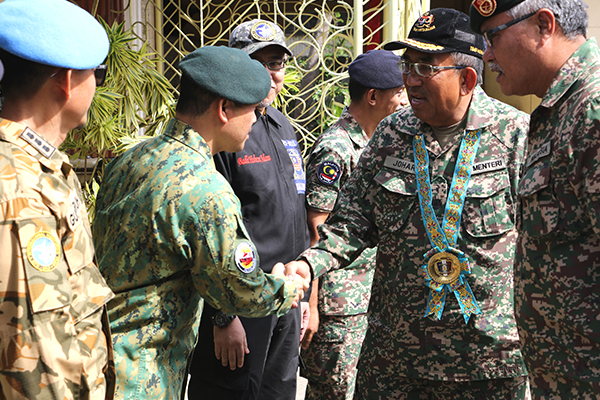 In this Jan. 12, 2017 photo, Malaysian Deputy Defense Minister Johari Baharom (2nd from right) was welcomed to Cotabato City by his compatriots and the Bruneian and Indonesian members of the International Monitoring Team, which is helping enforce the ceasefire agreement between the Moro Islamic Liberation Front and the government. John Unson, File
Malaysia will replace on Tuesday its peacekeeping contingent in Mindanao with a new batch for a 12-month mission in conflict flashpoint areas.
Malaysian Army Gen. Wira Zamrose, head of the International Monitoring Team (IMT), and his subordinates will be replaced by a group led by compatriot Gen. Masrani Paiman.
Zamrose and his men completed this month their 12-year peacekeeping tour in Mindanao.
Malaysia has been helping facilitate since late 2003 the diplomatic overture between Malacañang and the Moro Islamic Liberation Front (MILF), seeking a negotiated closure to the Mindanao secessionist conflict hounding the nation since the early 1970s.
The Malaysian-led IMT, comprised of soldiers from Malaysia, Brunei and Indonesia, and civilian conflict resolution experts from Japan and Norway, is helping oversee the implementation of the 1997 Agreement on General Cessation of Hostilities between Malacañang and the MILF.
The ceasefire accord was crafted by Malacañang and the MILF in Cagayan de Oro City on July 1997 to forestall undue rebel-military hostilities in conflict-prone areas in Mindanao while peace talks are underway.
The IMT's main headquarters is located in Cotabato City, which is inside Maguindanao province, where the MILF has more than a dozen enclaves, including its main bastion, the Camp Darapanan in Sultan Kudarat town.
Maguindanao Gov. Esmael Mangudadatu, chairman of the provincial peace and order council (PPOC), said his office will extend support to the IMT's new Malaysian bloc the way it supported the group of Zamrose.
"The presence of the IMT in the province is a big help to the efforts of the provincial government, the police, the military and the MILF in addressing peace and security issues in all of our 36 towns," Mangudadatu said.
The IMT has ceasefire monitoring offices in other provinces in mainland Mindanao and in the Zamboanga Peninsula.
Mangudadatu said there has not been any recorded MILF-military encounter anywhere in Maguindanao in the past six years.
Brig. Gen. Ariel Dela Vega of the Army's 6th Infantry Division lauded the continuing involvement of Malaysia in the Mindanao peace process during a farewell dinner for Zamrose and his men in Cotabato City Saturday night.
The 6th ID has jurisdiction over Maguindanao, North Cotabato and Sultan Kudarat provinces and several towns in the second district of Lanao del Sur, where the MILF has a strong presence.