From the Philippine Star (Nov 27):
2 hurt in explosion near Sultan Kudarat church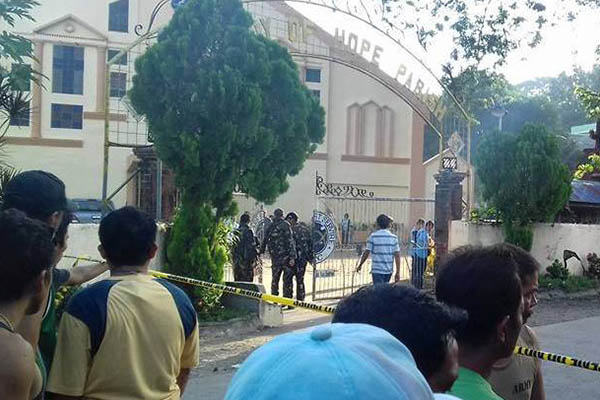 Onlookers observe policemen as they inspect the surroundings of a Catholic church in Esperanza, Sultan Kudarat town where a bomb exploded just meters away from its gate Sunday morning hurting two worshipers. Photo courtesy of Esperanza Redthunder Volunteer Group
Two churchgoers were slightly wounded in an explosion past 6 a.m. Sunday near a Catholic church in Esperanza town northwest of Sultan Kudarat province.
Senior Superintendent Raul Supiter, director of the Sultan Kudarat provincial police, said the victims, John Renan Escanillan, 30, and Loren Erazo, 26, sustained only minor shrapnel wounds and are both out of danger.
Supiter said the

improvised explosive device (IED)

used in the attack was detonated behind a vehicle parked near the worship site.
"The shrapnels that were supposed to scatter through towards the worship site was blocked by the parked vehicle," Supiter said.
The blast triggered panic among worshipers inside the Our Lady of Hope Church and people residing in its immediate periphery.
The IED, detonated from a distance using a mobile phone, was packed with nails and metal fragments with jagged edges.
"Investigators are still trying to establish who the bombers were,"
Supiter said.
A six-year-old child was killed while 30 others were injured in a grenade blast that ripped through a roadside carnival in the town proper of Esperanza last February.
Supiter declined to comment when asked about the possibility that drug syndicates could be responsible for the IED attack near the church at Barangay Saliao.
Local policemen and agents from the Sultan Kudarat provincial police led by Supiter arrested more than a dozen large-scale drug traffickers in different barangays in Esperanza in the past four months.
Among those neutralized was a

Moro commander, Ugalingan Manuel Jr.,

tagged as the top distributor of methamphetamine hydrochloride (shabu) in the Esperanza and in Isulan, the capital town of Sultan Kudarat.
Combined personnel of the Sultan Kudarat provincial police and the Philippine Drug Enforcement Agency were to peacefully arrest Manuel in his hideout in Barangay Marquez in Esperanza, but he resisted and fired an assault rifle, sparking a gunfight that led to his death.