From the Philippine Star (Apr 5):
4 injured in Zambo blast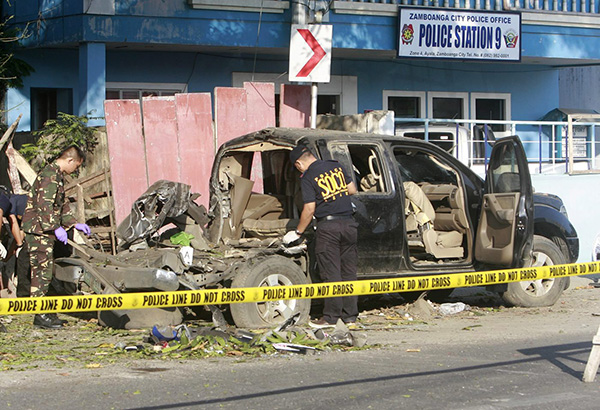 Police officers inspect a pickup truck destroyed in an explosion in Zamboanga City Friday. STAR/Roel Pareño
Four persons were wounded when a bomb exploded near a police station here Friday night.
The victims were identified as Marvin Esperat, Magdalena Joaton, Ofelia Enriquez and Victor Bartolome. They were rushed to different hospitals for treatment.
The blast was caused by an improvised explosive device (IED) left in a pickup truck that was impounded near the station in Barangay Ayala, Senior Inspector Karib Muharram, Station 10 police commander, said.
Muharram said the incident occurred at about 7:50 p.m. and destroyed the truck, a Nissan Navarra (KDY 493), which was linked to a kidnapping and illegal drugs case.
The explosion, which damaged the glass windows of the police station and a house beside it, occurred minutes after the police conducted a regular security briefing.
Muharram believes the attack was drug-related, citing the arrest earlier of a member of an illegal drug syndicate.
Meanwhile, police officers on Thursday deactivated an IED found near a government hospital in Cotabato City.
A grenade was also found several meters away from the IED.
Senior Superintendent Rolen Balquin, chief of the city police, said an informant tipped them off about the grenade near the gate of the Cotabato Regional Medical Center.
Responding police officers found the grenade and a bag several meters from it.
The bag reportedly contained a homemade bomb fashioned from a 60-mm mortar equipped with a timing device that can be detonated from a distance.
Balquin said they were still investigating the incident.
http://www.philstar.com/nation/2015/04/05/1440344/4-injured-zambo-blast