From Rappler (Mar 15):
Ship linked to toxic waste visits Subic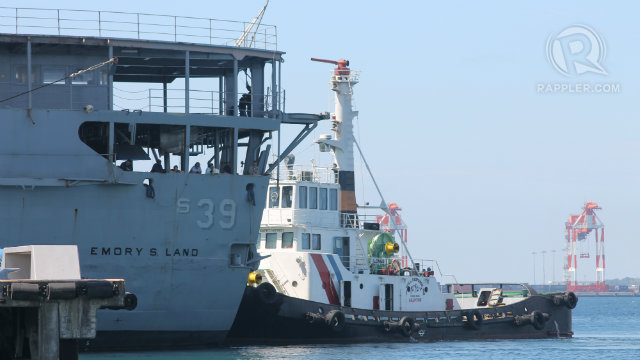 SUBIC, Philippines - The US Navy ship linked to toxic wastes made a routine port call here on Friday, March 15.
In a statement on Friday, the US embassy in Manila said the USS Emory S. Land (AS 39), a submarine tender, made a port call at Subic for maintenance and supply replenishment.
The ship's visit brought back memories of the controversy involving Glenn Defense Marine Asia, the US Navy contractor that used to service USS Emory Land and other naval ships that regularly dock at Subic.
Government agencies earlier reported that about 200,000 liters of sewage that the MT Glenn Guardian -- a barge owned by Glenn Defense --- had previously collected from the US Navy ship Emory Land was found to be in excess of toxicity standards set by the Department of Environment and Natural Resources.
A Senate probe discovered that Glenn Defense dumped millions of liters of sewage wastes at sea over a period of time without government permits. "They do not even have the necessary accreditation as waste collectors from the Department of Environment and Natural Resources (DENR) and Subic Bay Metropolitan Authority (SBMA)," Sen Loren Legarda earlier said.
The SBMA has prohibited Glenn Defense from using barges to dump waste in the sea. But Rappler sources said the company continues to operate within the freeport zone.
USS Emory S. Land, along with other US navy ships, continue to arrive in Subic bay for port visits. The staff and crew of the Emory Land include 106 Filipino-Americans out of 410.
http://www.rappler.com/nation/23896-us-navy-ship-toxic-waste-subic