From the Philippine Star (Apr 24):
MILF fire into the air in Maguindanao town after comrade's arrest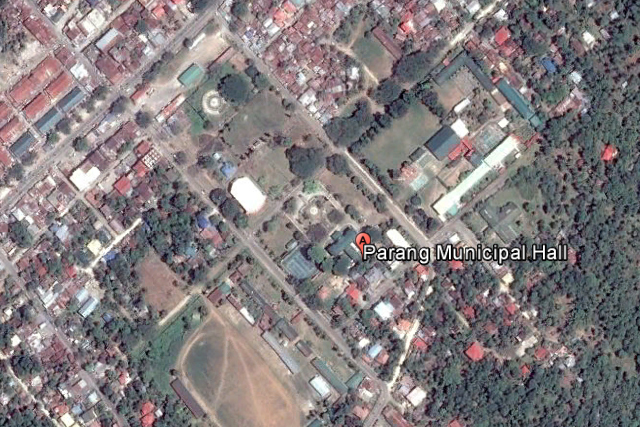 The show of force was apparently in response to the arrest of an MILF commander over the weekend. Google Earth
Members of the Moro Islamic Liberation Front fired rifles into the air near the police precinct in Parang town on Monday as a show of force and in protest of the arrest of one of their commanders.
Senior Supt. Agustin Tello, director of the Maguindanao provincial police, said the incident sent hundreds of villagers running for cover.
Tello said the group of

Solaiman Dimatunday, a senior MILF commander in nearby Barira town in Maguindanao

, arrived in the town proper of Parang, approached the municipal police station and fired guns overhead.
Local officials said the provocation was a serious violation of the government's 1997 Agreement on General Cessation of Hostilities with the MILF.
The provocation was the group's apparent response to the arrest on Saturday of another MILF commander for illegal possession of firearms.
The suspect, who is related to Dimatunday, was intercepted by personnel of the Regional Public Safety Battalion of the Police Regional Office-Autonomous Region in Muslim Mindanao in Barangay Kalawag in Parang town on Saturday.
The MILF rebels who stormed the town center of Parang retreated to another barangay in the municipality through the intercession of local officials.
Tello said they are now preparing a formal complaint to the government-MILF ceasefire committee for the misbehavior of Dimatunday and his followers.
The government and the MILF signed the Comprehensive Agreement on the Bangsamoro in 2014, which was meant as a final peace agreement. The Bangsamoro Basic Law, which the 16th Congress failed to pass, was supposed to implement the agreement.
A Bangsamoro Transition Commission, which includes members of the MILF, the Moro National Liberation Front and representatives of the government, is working on a new draft of the BBL.